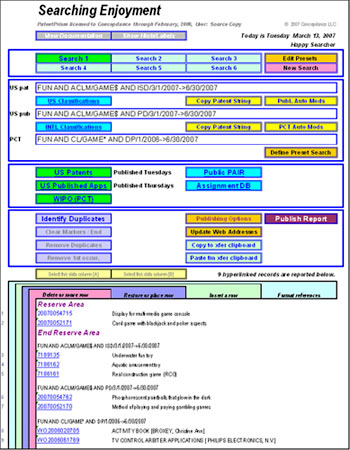 PatentPrism
Whether you are a professional searcher or fairly new to patent searching, PatentPrism can help you take your on-line searching to a higher and more enjoyable level.
What is PatentPrism?
PatentPrism is a time-saving, efficient and user-friendly desktop interface for professional level on-line patent searching, analysis, tracking and reporting, using publicly accessible electronic databases provided by national and international patent authorities (primary on-line databases), while also providing electronic reports suitable for distribution, presentation, and "live" record-keeping.
PatentPrism dramatically enhances the accessibility of these databases relative to conventional on-line searching, while reducing on-line connection time and overall search time, maintaining your search information on your local computer. Depending on your needs, PatentPrism's unique features can rival or surpass those of high access-cost commercial databases.
PatentPrism is NOT:
PatentPrism is NOT a database. PatentPrism's organization and interface provide enhanced access to existing databases.
PatentPrism is NOT a bulk downloader of patent data. Bulk downloading ( that is,downloading many complete patent documents at once) is not permitted by, or is considered an abuse of access to some public patent databases. Some commercial databases do provide bulk downloading of patent information.
General features of PatentPrism include:
A powerful, uncluttered interface from which to search primary on-line patent databases, providing the "feel" of working from within several databases concurrently.
Up to six concurrent searches with each interface, including general and preset search types
Convenient off-line construction, editing, translation and recording of revisitable & redirectable search strings, with single-click linking to appropriate on-line search pages
A common, annotatable format for records from different databases, maintaining access to each database's search facilities, and with redirectable hyperlinks
Versatile tools for manipulating downloaded database records and redirecting / updating hyperlinks
Straightforward handling of large numbers of records
Single-click report publishing. Reports can include updatable hyperlink addresses. and are suitable for live presentations. Small report file size is suitable for e-mailing or other distribution.